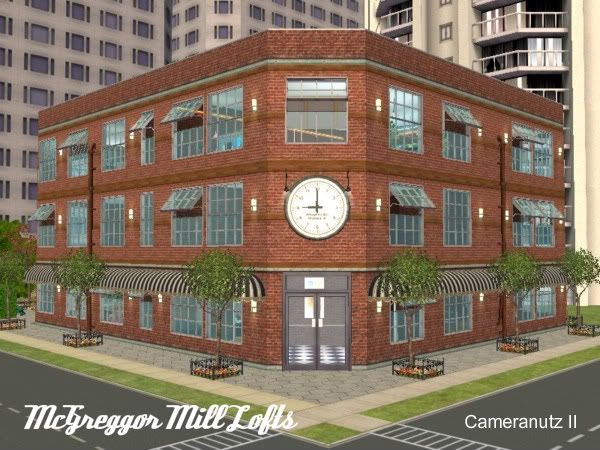 The old McGreggor Saw Mill sat vacant for many years. It's walls were crumbling, windows were broken out by vandals and over time it became occupied by all kinds of unsavory characters. After years of visits by the Sims Crossing police, the Mayor and Residents had had enough. The time had come to clear out the riff raff! Hundreds of thousands of Simoleons were spent on it's restoration. Today, the old building is home to law abiding, hard working citizens of Sims Crossing that enjoy a good life!
3x2 Apartment Lot
Rent = $1,011 - $1.330
4 Loft Apartments (2 "High End Living", 2 "Low End Living")
Fully Furnished
Gym
Laundry Room
Internet Cafe
Game Room
Pool/BBQ Area
Landscaped
Hack Free
Play Tested
- To rent the apartments "furnished", enable the boolprop testingcheatsenabled true cheat in "Neighborhood View", hold the "Shift" key once you enter the lot, select an apartment door and choose "Rent Furnished" option.